VEGAS SHOW
It was great fun visiting with our painting friends in Vegas... the traveling not so much.
As always the Vegas show was great!!! Thank you Jayne for all that you do. It was once again special for both the painters and the vendors. Reconnecting with many of our long time painting friends and creating new friendships is fun. Relationships created with both vendors and customers is priceless. Definitely worth all the effort of traveling to the show and doing the "dreaded" task of setting up three booths and working the show. Packing up and leaving is not for the faint of heart.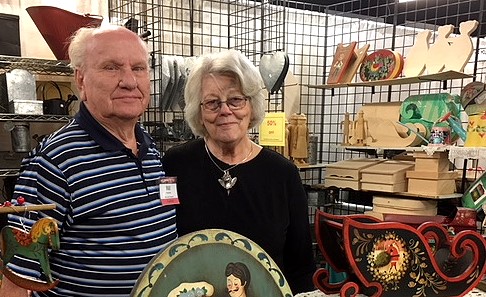 I am writing this post as we travel back to Texas. My heart beats a little faster as we are closer to home. I am thinking about our precious little "white fur ball". That would be our sweet Bichon... Mr. Beau Jangles. I miss him when we are away from home. He is always at my side and more often than not in my lap.
While we are away he stays at his "second home" on the family farm with our son and his family. As usual Beau becomes the leader of the pack of the farm dogs while he is visiting.
They raise Great Pyrenees dogs. They have a new litter of ten pups and they are already larger than our Beau. It is hilarious to see them together. Wish I had photos to share. He comes home "beige"... wasted big bucks to have him groomed before we left for Vegas. I will not do that again.
ON THE ROAD AGAIN...
Three days on the road and arrived mid day on day four. Traveling allowed me uninterrupted "thinking time" to plan new events, write notes for my next newsletter and catching up on correspondence. I actually do not mind the travel time.
A lot of thought was given to designs as well as what tin I should use. We recently updated our home page with new tin pieces. You can check them out as the photos will be posted on our home page by the time you receive the newsletter.
GOOD NEWS - A SALE
We have a new sale on our home page now. Buy the Folk Art Tin piece and receive the "Brand New Pattern" FREE! Visit our home page for details here.
NEW TIN
The new tin was well received at the Vegas Show... actually all our tin sold really well. We ran out of so much tin there were many disappointed customers on the last day of the show.
Patterns, both old and new, were equally as popular. Orders were placed for the new tin for our warehouse before we left for Vegas as we expected it would all be sold at the show. Love the new pieces. All the tin can be ordered from our website now. Click here - DellaAndCompany.com
Much time will be spent in my studio in the coming weeks. My paint brushes are calling my name. They will have to be dusted off as they have not been used for quite a long time
NEW BOOK
I am excited to tell you that Rosemary West and I will be releasing a new book in the coming months. Work will begin this week. No target date for completion. We will work as we have the time... there is no rush. Designs will be painted on our new tin pieces and a few pieces will be on old tin. There will be updates coming your way as progress is made.
NEW PATTERNS
New patterns were added at the Vegas Show. You will find them online now. We will be adding more new ones in the coming weeks. There will be a "heads up" email sent out when they are online.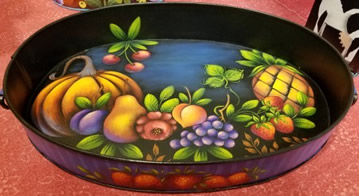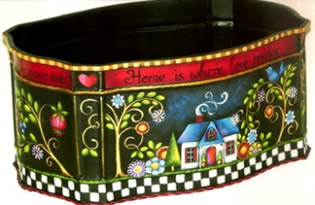 Take a look at all the new patterns on our home page here.
"HOME TOWN" SPRING SEMINAR
The "Spring Gathering of Folk Art Friends" is fast approaching and is almost filled. Only a few spots are available. There is still space... but only a few spaces left before we close the registration. The projects are on the home page and the project photos are below too.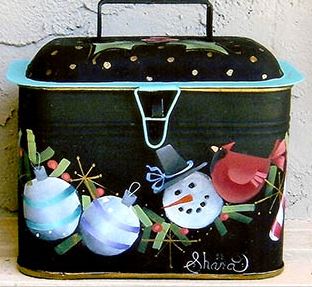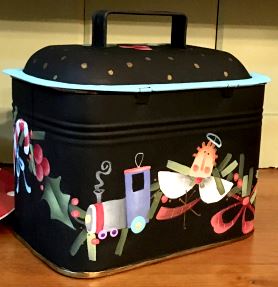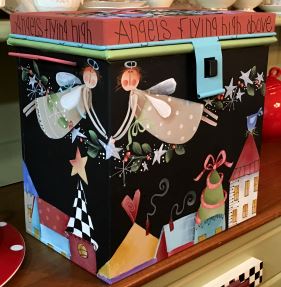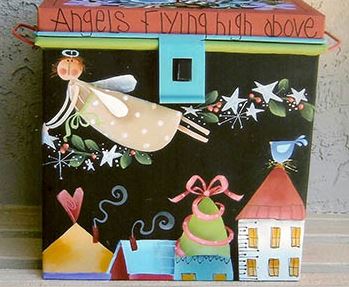 Shara brought the samples to the Vegas show. Photos do not do them justice... they make your heart smile. Painting with Shara is fun, easy and very laid back and not stressful.. They make your heart smiles as you paint.
FOLK ART FRIENDS "FUN DAY"
Remember, we will have a day of exploring some neat shops the day before the seminar begins. If you have not been to Magnolia's you will have the opportunity to do that on our fun day before the seminar begins. I hope you can join us for our "Fun Day". Magnolias is the gift store owned by Chip and Joanna Gaines of "Fixer Upper" fame.
The new restaurant the "Fixer Uppers" are opening will be open by the time you arrive for the seminar. It will be fun to have lunch there. It is a unique building that was built in the '40's. I have special memories of eating there when Bill and I were dating and as a young married couple with our friends.
(Click here to download and print the seminar registration form.)
AND THE NEWS ENDS
I am eager to put my ideas together for our new book and energized about business. Working on my artistic contributions for the book will begin later this week...if not before. Stay tuned as there might be "a sneak peek" of the new designs. One never knows.

Until next time "Think with your heart". Life is so much better when you do!!!
Sending a hug to each of my "Folk Art Friends".
Della



















DellaAndCompany.com
Email: dellaandco@aol.com
5208 Lake Charles Dr.
Waco, Texas 76710
Phone: 254-772-6927