Home
Shopping Index
CLEARANCE
All Things Joyce Howard
Ordering Info
New Products
Folk Art Collections
Meet Della
Della's Painting Tips
Seminars - Shows
Photos - Fun Stuff
Magazine Articles
Search
Checkout
Links of Interest
Contact Us


NO PAYPAL
ACCOUNT
NECESSARY

I'm PayPal Verified

Credit Cards
Accepted
via PayPal
~~~~~~~~
Sorry, our
warehouse is not
open to the public.
Please order
online.
SALE
ATTENTION MAXINE THOMAS FANS

BUY ONE OF THE SURFACES USED FOR HER PATTERN
AND YOU WILL RECEIVE THE PATTERN FREE!!!
The free patterns will automatically be added to your order!
In stock only ~ No back orders ~ Supplies limited
Sale applies

to these

sufaces only


"St. Nicks" MT-027
Painted on Serving Tray FT-3055

"Nutcrackers" MT-028
Painted on Vintage Cream Can FT-3048

"Nativity Scene Heart/Ornament" MT-026
Painted on FT-2231 & FT-2076 Hearts

"Old Crow Farms" MT-022
Painted on Oval Colonial Tray FT-2240

"Savior is Born" MT-021
Painted on Tabacco Box FT-3042

"Halloween Fun" MT-013
Painted on Railroad Oil Can FT-2215

"Star Santa Claus" MT-008
Painted on Santa Pull Toy FT-2266

"Feather Tree Santa" MT-014
Painted on Candle Sconce FT-2246

"Halloween/Fall Pitcher" MT-020
Antique Measure FT-2289 & Orn FT-2192
NEW MAXINE THOMAS PATTERN PACKETS!
"Gathering of Folk Art Friends"
Rosemary West, CDA
November 10 - Fun Day
Painting 11 & 12, 2017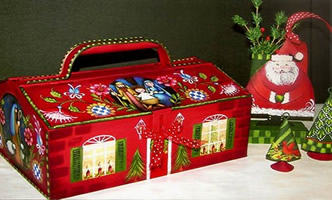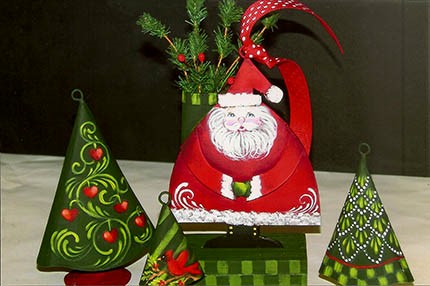 NEW PATTERN PACKETS by DELLA
First in the "Ho Ho Ho Series"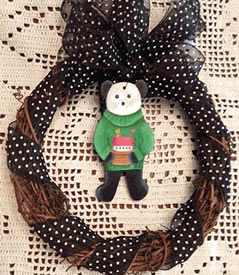 NEW E-PACKETS

ROSEMARY WEST, CDA






"Folk Art Clipboard & Frame"





"Joy to the World Box"
E-packet only
E-Packet E-010

"Flower & Fruit Lazy Susan"
E-packet only
E-Packet E-012

"Christmas Bucket"
E-Packet E-015

"O Christmas Tree"
E-Packet E-011


"Santa & Cardinal Tray"
E-Packet E-014



"Small Bucket of Blossoms"
E-Packet E-016

News Flash... from Beau

We have a new member in the Della and Company Family... Maxi. Mom said I could tell you about her. She belongs to Melinda and we have only seen photos of her. I think she is beautiful. So glad she is. A handsome guy always likes a good looking friend.
"All Things
Joyce Howard"