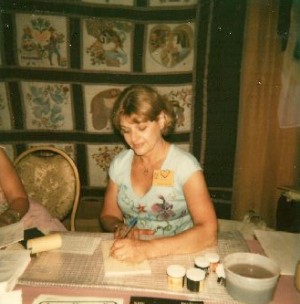 "All Things Joyce Howard" is a new addition to our web site. For now you will find "how to" information and other postings that will help you understand her method of painting.
"How to Prepare Tin and Wooden Surfaces", "How to Age Your Painting by Mudding", "Aging Painted Pieces a Softer Way" and "Finishing Touches" are listed below in PDFs you can download..
Joyce painted originally with Grumbacher tube acrylics. She used a limited palette. She mixed all of her colors. Joyce was a trained professional artist. She was the first teacher that helped me learn and understand how to "gray" my color mixes. I learned so much from her.
As time passed she was "wooed" by other paint companies and she painted with their paints. It made teaching easier...with no mixing. So you will find different brands were used in her instructions. On occasion there were two or more brands of paint used in a pattern. She used Delta a lot and also Accent Acrylics.
"Paint Conversion" You will find a list of Delta paints that have been converted to DecoArt. These are colors used in the patterns that were released with Delta acrylics. As I convert other patterns I will add other paint brand conversions. This will make it easier for you to work with patterns that were written using different brands of paint.
DecoArt has a conversion chart for converting colors from Delta to DecoArt on their web site. Use this link to their web site if you need help converting colors. DecoArt Conversion Charts
The addition of the Joyce Howard page to our web site will be educational, interesting and fun. It can only become that with your help. I have a few things that are up now with plans for many more to come.
You can be a helpful part of this new feature. We are starting off with information that will be helpful to you about the colors used in her pattern packets and books. Conversion charts for the different paints that she used... and she used several. I recently purchased a set of Grumbacher tube acrylics. I will be working on a conversion for these that is simple. The simple thing will be to add a few of these tubes to your paint box and see how you like them. I must say I love them.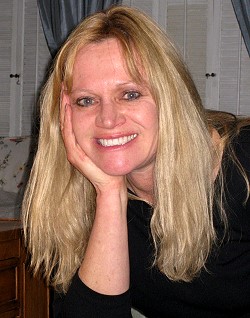 This is a photo of Joyce's daughter
Nancy Howard Gray.
Share any photos that you might have of seminars that you attended with Joyce. We will all look young and youthful, right? You can help by sharing memories of those seminars. Be sure to include the place and time the event occurred. Identify those in any photos and share the names of other painters that attended and what you paint. Anything that you would like to share with us.
Send them to me and they will become a living legacy of those wonderful days gone by when we painted with Joyce.
View old photos of Joyce Howard and students

How to Age Your Painting by Mudding
Aging Painted Pieces a Softer Way
Missing Pattern Parts
Standing Santa
This is the pattern for the base of the Santa. A tulip should be placed in each corner of the stand. The round circle is placed in the center of the base and then the tulip is repeated. It is repeated on each side of the base.
These instructions were not in the original packet.

Base Evergreen + Desert Turquoise ( 2:1 )
Daisy - Round Background - Black
Daisy Petals - White
Line Work on Petal Center - Lt. Orange

Tulips
Petals - Red (use the same red that you use to base coat your Santa's suit) + touch of Avocado + White (make dusty rose mix)
Center - White
Circle Under the Flower - Yellow Ocher + White
Comma strokes - Black
Three Petal Flower
Stem and leaves - Avocado + touch White
Petals - Red + White + touch of Avocado (These are darker than your tulip)
Flying Angel on Dowel
The design on the back of the angel is the only thing that is missing. So transfer this design and use the same colors as the front of the design. Also some instructions were missing.
Download missing instructions here for Flying Angel
Download patterns here (for Santa base and back of Flying Angel)


Converting Joyce Howard Patterns to DecoArt Acrylics
As I continue to convert patterns to DecoArt Acrylics I will add the colors to the list that I have used in the patterns. Looking at my list first will be a quick search to see if the colors you need are there. If not, then you can go to the DecoArt web site and find the information.
DecoArt Conversion Charts here

Delta Acrylics used by Joyce converted to DecoArt colors
Adobe
2 - DA156 Antique Rose
1 - DAO28 Raspberry
1 - DA139 Oxblood
Antique Gold
2 - DA194 Marigold
1 - DA222 Traditional Raw Sienna
Burgundy Rose
2 - DAO97 Rookwood Red
1 - DA128 Deep Burgundy
Cayenne
4 - DA181 DeLane's Dark Flesh
1 - DA137 Shading Flesh
Coral
2 - DA251 Melon
1 - DAO28 Raspberry
1 - DA137 Shading Flesh

English Yew
1 - DA113 Plantation Pine
1 - DA147 Antique Green

Ivory
8 - DA164 Light Buttermilk
1 - DAO12 Tangerine

Med. Flesh
2 - DA102 Medium Flesh
1 - DAO23 Peaches 'n Cream
1 - DAO32 Lilac

Old Parchment
1 - DA184 French Vanilla
1 - DA243 Light Parchment

Timberline
DA147 Antique Green

Wedgewood Green
2 - DA132 Hauser Medium Green
1 - DAO57 Jade Green

Woodland Night
2 - DAO83 Black Forest Green
1 - DA158 Antique Teal